OUR SATURDAY @ 5:30PM MASS CAN BE VIEWED WEEKLY VIA LIVESTREAM
BY VISITING OUR YOUTUBE: PARISH LIVESTREAM HERE
e are a Roman Catholic community of believers in Jesus Christ in Lincoln Park and surrounding areas, located in the Diocese of Paterson, New Jersey. Our Bishop is Bishop Kevin J. Sweeney. Please feel free to visit the pages of our Parish site, learn about who we are as a community of faith and the services our parish provides. If you are thinking about moving to the Lincoln Park area, we cordially invite you to make St. Joseph's your parish.
MAY 28 2023
THE FEAST OF PENTECOST - THE SPIRIT, HERE AND NOW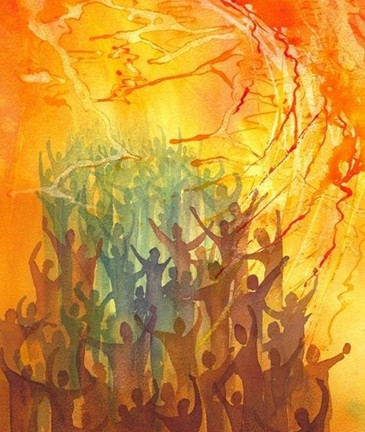 The readings for the feast of Pentecost present us with two different perspectives of the Spirit event. They aren't meant to be reconciled, but rather offer different theological insights about how the early Christian community experienced this life-changing gift of the Spirit to the early church.
The Spirit we celebrate today is the Spirit of the risen Christ for whom closed doors are not an impassable barrier, nor are they part of a fortress to keep us in. The Christian community has always been seen as the Spirit-guided bearer of the Word of Salvation. Easter/Pentecost happens now. It is the continuing invitation from our God to an ongoing, ever new encounter with Him and with others.